45 Amazing Summer Salad Recipes You Have To Try, Recommended By A Real Chef
THE SUMMER IS COMING.
Finally.
The hottest, most entertaining, and most delicious time of the year. The season of fresh fruit, fresh veggies, and outdoor eating & adventure.
Boy, how I love to eat outside and enjoy the excellent fresh fruit and vegetables. There's such a difference when you know it's tomato season, and you get the finest ones from the market, compared with these made all-year-long. Especially organic & non-organic comparison. Not even a same category.
When I'm not working, I'm all about making some fresh, easy-to-prepare and delicious salads. They are practical, healthy, nutritious, and the possibilities are endless.
Depending on where you live on the globe and which plants and vegetables are available, the overall note of summer salad you'll munch the whole summer. Still, that's no reason not to be creative or go and get some exotic ingredients.
I've done some researching and found hundreds of recipes. But today I'm sharing my absolute favorites with you.
So far I've tried over 60 salads, but these 45 I can surely recommend.
Check them out!
1. Caprese Tomatoes
Via: www.delish.com
The effect of cheese & tomato combination has a mesmerizing effect on me. The mixture is utilized in numerous recipes, and no foodie haven't enjoyed this splendid duo.
The guys from Delish have found a way to make it look exciting and lovely, so alluring. The addition of olive oil and Italian seasoning bring the texture, and the basil adds a fantastic finishing touch.
No matter if you're a gently vegan or feisty carnivore, you're going to love this one!
2. Summer Panzanella
Via: www.delish.com
Here's my second best favorite combination of all time; the chopped baguette and cherry tomatoes. There's something in toasted bread that awakens the inner gourmet in me.
When properly seasoned and combined with excellent olive oil, it will make you melt!
I'm also a big lover of cherry tomatoes, especially when they're colored differently. Amazing combination.
3. Field Pea and Pasta Salad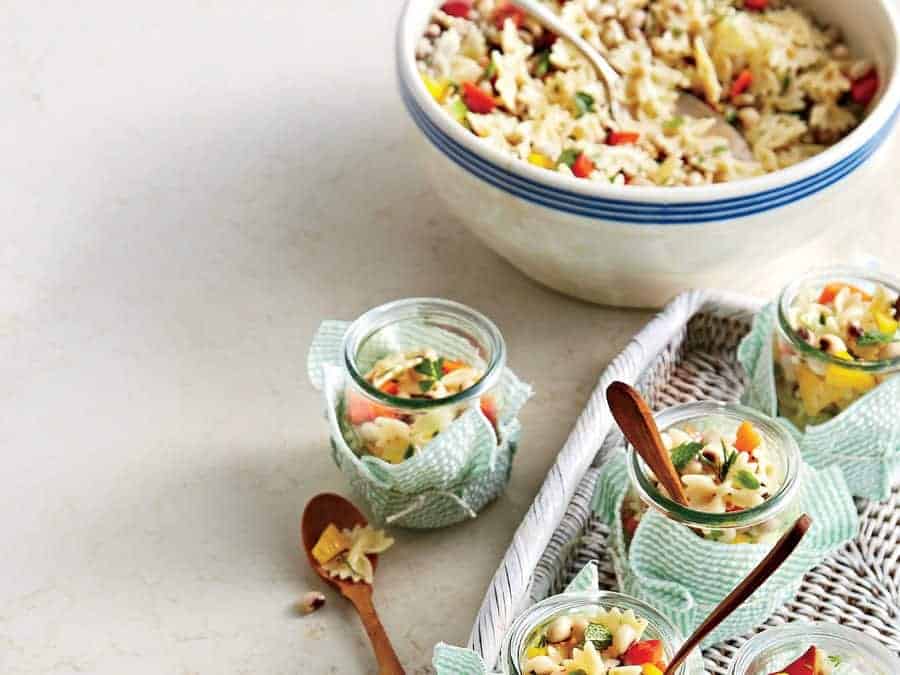 Via: www.myrecipes.com
I've discovered this salad recently when I was looking for ways to include peas in the meals that we serve. They are healthy and available almost throughout the whole year, without losing on nutritional features.
This salad is fantastic because of this incredibly smart dressing. Mustard and honey provide the yummy, creamy surroundings, and peas combined with pasta give the texture. If you opt for the added chicken, you have a full-sized meal.
A must-have!
4. Summer Pasta Salad with Lime Vinaigrette
Via: www.myrecipes.com
This one can be served as a complete meal as well since it incorporates chicken and pasta.
Still, the limes and nectarines involved will add the citrus aroma, and the squash will make it a bit milder. Almonds are in the mix for crunchy texture, and the Creole mustard is there to tingle your taste buds.
The salad comes initially from Southern Living, and they know what they are doing.
5. Mediterranean Greek Salad
Via: allrecipes.com
Greek cuisine is very caloric but incredibly tasty, thanks to fatty Feta cheese, and homemade olives.
Their famous Tzatziki sauce incorporates cucumbers and onions, combined with feta and olive oil, similarly like this refreshing, beautiful salad.
It goes great with BBQ or any meat.
6. Beetroot, feta & grain salad
Via: www.bbcgoodfood.com
This is one of the most beautiful and most tasty salads I tried recently. I was amazed how beetroot complements the feta's strong taste and equalizes the fat while bringing that distinct aroma. Chelsie Collins from BBC Good Food brought this recipe to the public, and I can't thank her enough.
Amazingly easy to prepare, and it only takes three minutes. Just fantastic for a lazy summer afternoon.
7. Thai carrot & radish salad
Via: www.bbcgoodfood.com
This is one of the first salads I utilized on my work's menu. Fresh carrots and radish make a perfect combination with chili, lime, and radishes. It tastes amazingly fresh, and it's so easy to prepare.
It combines well with almost any meat, and it can be served separately as well. It got very popular in our restaurant in no time.
8. Barbecued Corn and Chorizo Salad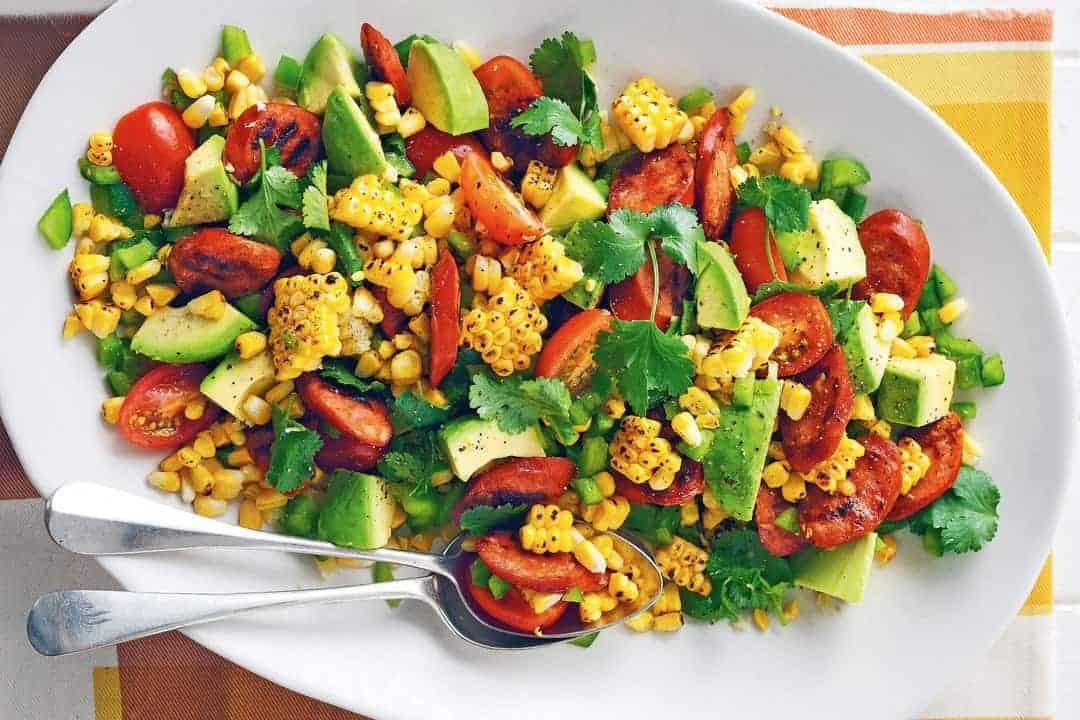 Via: www.delish.com
This is the salad I'm currently trying to add to my restaurant menu. Even though this is a winter salad, and it can be served as a separated meal, since it's so dense with nutrients.
First, there's delicious Chorizo, the Spanish sausage. Then, there's slightly barbecued corn, just before it caramelizes. Yummy.
Finally, there's avocado, green capsicum paprika, and lime juice.
You just have to try this salad!
9. Mexican Bean and Rice Salad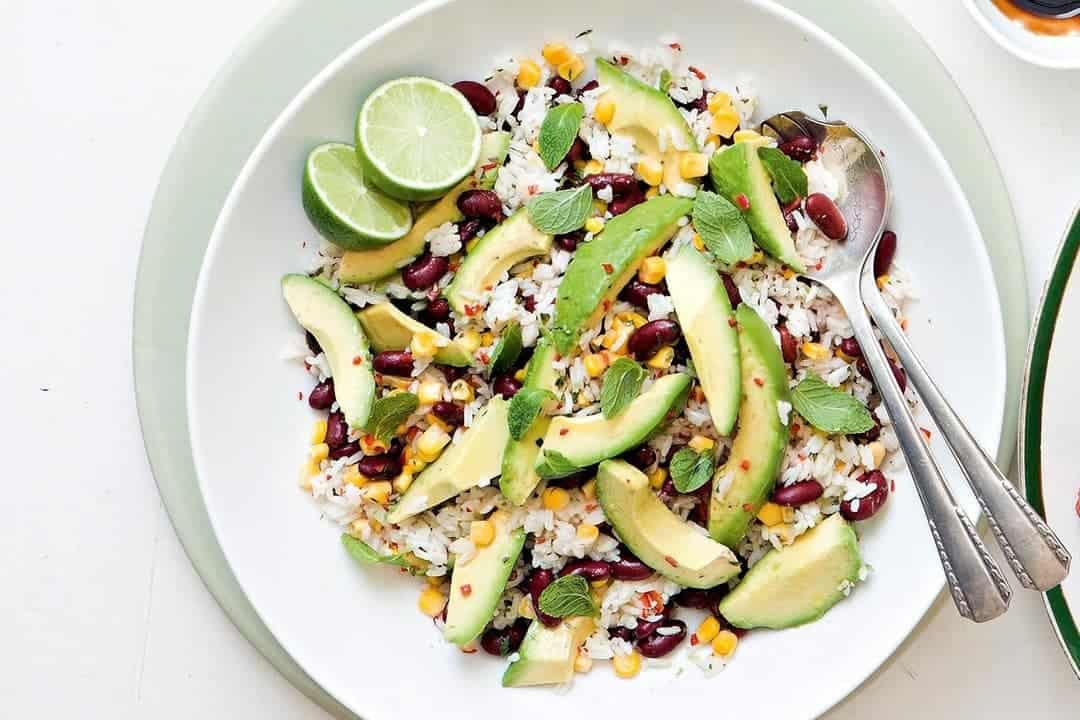 Via: www.taste.com
The star of this recipe, beans are an excellent source of protein, and quality rice brings the texture and combines excellent.
Adding lime, avocado, mint, and chilies complete this fantastic recipe, making it a splendid experience for all your senses, not just your taste buds.
10. Green Mango Salad
Via: www.foodandwine.com
Here's the first salad on my list that incorporates fruit.
Mango's citrus aroma combined with spicy jalapenos and onion creates a different environment. The sweet smell of mango is tasty, while the spicy peppers and black pepper and onion counter the sweetness.
The combination is delicious, and it goes great with cold drinks and grilled meat.
11. Avocado, Orange, and Jicama Salad
Via: www.foodandwine.com
Avocado and Jicama match so well together. If you didn't know what's jicama, it's a Mexican version of jam bean, which tastes somewhere between sweet and savory. The texture and lot of fibers are its primary attributes, and it combines with avocado well.
This combination is the focus of this salad, and it delivers delicate texture. Its freshness and uniqueness of jicama is an excellent opportunity to impress your friends at your next gathering.
12. Shaved-Squash Salad with Tomatoes, Zucchini Blossoms, Ricotta, and Thyme Oil
Via: www.marthastewart.com
Zucchini and squashes blossom in the summer, and they are fantastic during this season. Add the zucchini blossoms, coriander, lemon zest, and cherry tomatoes in the mix, and you get an excellent summer salad to impress your friends.
The ricotta cheese comes on top as a final ingredient – when perfectly fresh, it will spice up the aroma and make it irresistible!
13. Raw Corn and Zucchini Salad
Via: www.marthastewart.com
Another unique and delightful salad from Martha Stewart.
Raw corn is impressive during the summer, and when utilized correctly, it will be delightful for any meal, not just in a salad.
Everyday Food is the source of the recipe though, so I'll take this opportunity to thank them.
14. Honey Grilled Watermelon Caprese Salad
Via: www.howsweeteats.com
Can you cope with this idea? Surprised?
Well, it's an idea from Jessica Merchant, and it turns out to be amazing.
Both sweet and salty at the same time, this salad involves tomatoes with salt, mozzarella, and honey grilled watermelon.
Just look at the picture and try not to try it.
15. Summer Berry Spinach Salad
Via: www.foodiecrush.com
Heidi from Foodie Crush combined strawberries, blueberries, and sugar with olive oil, spinach, onion, and white tuna. Her way of depicting recipes through everyday stories is exciting.
Besides it looks so colorful and refreshing, this salad is a full meal. I did make it with essential onion, not the red one, and it turned out great.
16. Quinoa and Mango Salad with Lemony-Ginger Dressing
Via: www.food52.com
I absolutely adore quinoa. This crop provides so many nutrients, taste, and texture when handled correctly. When you cook it, you want it to "drink" all the water.
Mango is, on the other hand, is the native tropical fruit that brings terrific taste, a lot of beautiful juice, and it synergizes fantastically with the dressing made of lemon juice and pepper.
JennieBeGood from Food52 is guilty of this one.
17. Sliced fennel, orange & almond salad
Via: www.jamieoliver.com
Jamie Oliver is one of the first personalities in cooking to advocate the healthy nutrition and delicious recipes made with organic, exciting and very healthy ingredients.
This fantastic salad features fennel, a crunchy white root from the carrot family, oranges, slightly baked almonds, and mint.
Nothing less to expect from Jamie. My food never ends as good-looking as his.
18. Farro, Tuna & Asparagus Salad
Via: www.foodinaminute.com
Tuna is utilized in salads the most, and this recipe brings a fresh new look to the standard summer salad. Farro comes as a surprise ingredient, and with its earthy aroma asparagus complements the tuna's texture and intense flavor very well.
This tasty recipe comes from FoodGroup Editor – she knows what Kiwi's love to eat!
19. Texas Coleslaw
Via: www.foodnetwork.com
In this salad, the famous TV chef Tyler Florence paired cabbage with carrots, apples, onion, pecans, and mint. Cabbage brings refreshment in many combinations and pairs well with many ingredients.
Besides Tyler, the star of the recipe is the dressing, combining many ingredients to create the tremendous savory taste.
20. Quinoa Fruit Salad with Honey Lime Dressing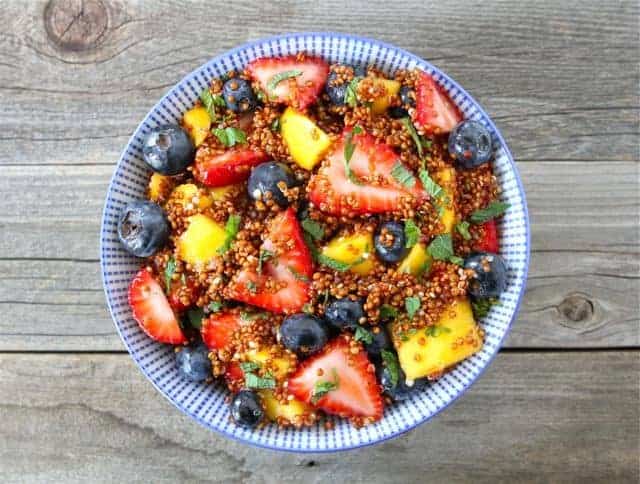 Via: www.twopeasandtheirpod.com
Maria & Josh from Two Peas And Their Pod are always making some family-friendly recipes.
Honey, lime, strawberries, blueberries, mango, and quinoa combine for the essence of this salad. The quinoa softens the all-fruit combination, and this fabulous crop (yup, I did say that) adds texture as well.
The honey lime dressing brings out the aroma and puts everything together. The result is fantastic.
21. Blueberry Corn Salad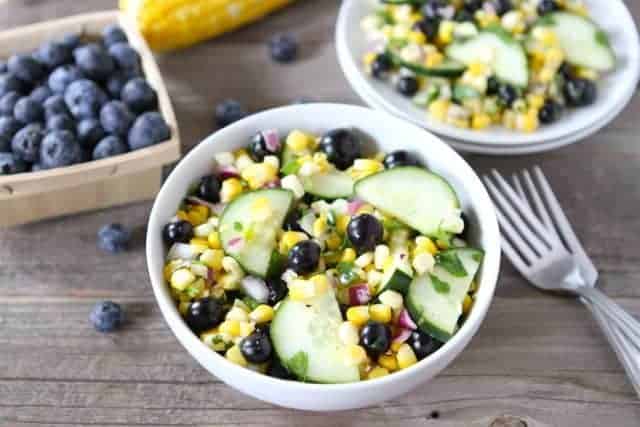 Via: www.twopeasandtheirpod.com
Another one from the Two Peas family. Blueberries, fresh corn, onion, cucumber, and a lot of garnish bring the perfectly fresh, yet savory combination.
It takes such short time to make it, and it takes even less to devour it after a hard working day!
Cilantro, cumin, and honey add the special touch – you got to try it.
22. Sour Cream Cucumbers Recipe
Via: www.tasteofhome.com
This salad is perfect for spicy meals, steaks, and sausages. It incorporates the delicious sour cream and softens its taste with fresh cucumbers and onion.
The interesting fact about this recipe is that it incorporates sugar as well. I've tried it with spicy sausages, and it combines well.
23. Shrimp, Lemon & Gemelli Party Pasta Salad
Via: www.goodhousekeeping.com
Seafood is the perfect choice for a summer salad, and shrimp is my favorite seafood. I've tried so many meals with shrimp, but never tasted a shrimp salad before.
This recipe incorporates pasta with shrimp, and adds a bunch of veggies, and adds a fine wine into the mix.
It's very calorically dense, delicious, and of course, it is a full-sized meal if needed.
24. Crunchy Indian potato salad recipe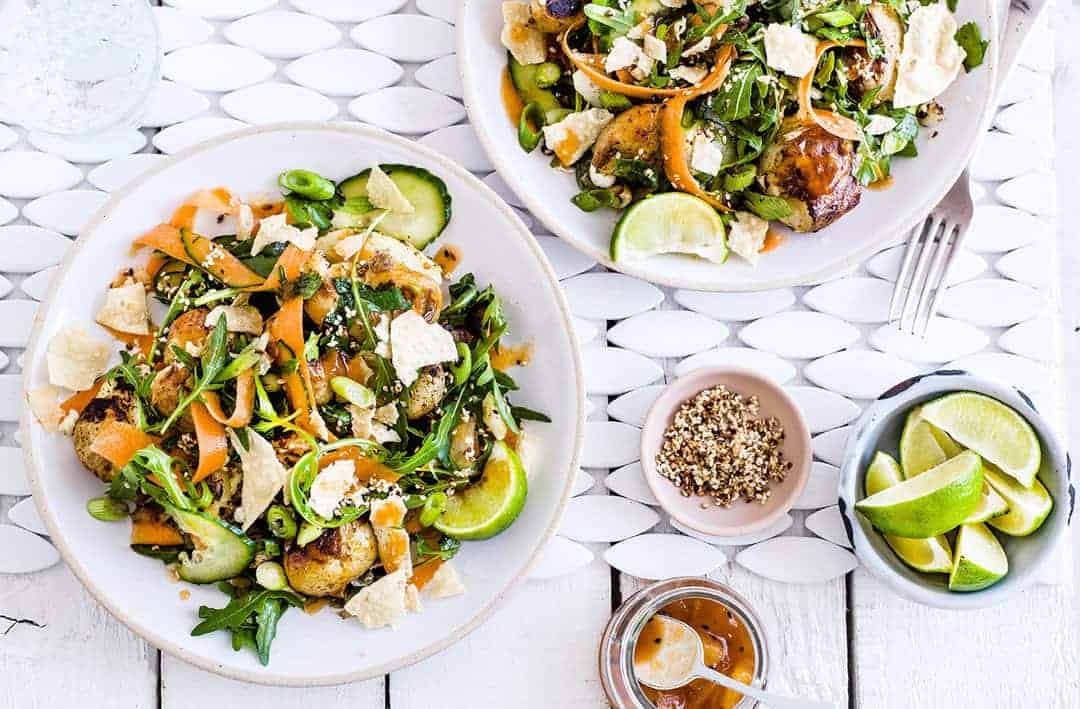 Via: www.tesco.com
Indian cuisine is fascinating, and there are thousands of reasons for this claim. This fabulous salad is perfect for any occasion, but eating it on a summer breeze is indeed something else.
The foundation of the recipe are potatoes, and like in every Indian recipe, there are many spices and other ingredients to make a bomb of flavor.
Describing this salad with one word would be difficult, but the word "Authentic" definitely comes to mind.
25. Mango-Broccoli Salad
Via: www.bhg.com
This incredible combination from Better Homes & Gardens works out surprisingly well. The sour-spicy-earthy-sweet meal (yes, it can be served as a whole meal efficiently) delivers rich texture, alluring fragrance and of course, superb taste.
Horseradish and orange juice would never come to my mind as a combination for a dressing, but it turns out so good, that I've made it twice in one day.
26. Chicken Cranberry Sunflower Salad
Via: www.lmld.com
Mixed veggies, shredded chicken, and cranberries; this is the salad that comes from Berrett girls – main responsible for LikeMotherLikeDaughter blog.
Red onion is another summer symbol, and the shredded mozzarella will provide the most exquisite taste and texture to the mix.
Delivering a fine tingle to your taste buds, poppy seed dressing binds everything together and creates the perfect balance. Voilà!
27. Thai Cucumber Salad
Via: www.budgetbytes.com
Chopped cucumbers, onions, and peanuts – that's all that it takes to make this summer salad.
Simple, cheap, yet very, very useful – like usual from Beth at Budget Bytes.
Suitable for every occasion, it will become your regular go-to salad during summer.
28. Lemony Orzo Pasta Salad with Cucumber and Feta
Via: www.forkknifeswoon.com
Here's another simple recipe from Laura at ForkKnifeSwoon that leaves your taste buds tingling. The orzo pasta resembles rice in shape, and when cooked well, it brings both texture and flavor to the salad.
The mix of cucumber and feta is never amiss, and with olive oil, you have a decent meal in this one.
Served alone is excellent, served with steak – even better!
29. Green Salad with Oranges, Beets & Avocado
Via: www.gimmesomeoven.com
Inspired by New Zealand's cuisine, this one is very colorful, nutritious, dense with calories, and yup, you guessed it – it's fabulous!
Originating from New Zealand's fast-food chain called Tank, this salad is called "Lean & Green Salad." The shredded beetroot is the crucial ingredient – Kiwis are obsessed with it!
Yummy like always from Ali at GimmeSomeOven.
30. Citrus Beet Salad with Champagne Vinaigrette Dressing
Via: www.rdeliciouskitchen.com
The name says it; this one is a unique, different salad that will spice up your summer and raise your cooking game to another level.
The combination of beets, citrus fruit, champagne vinegar and pepper will be something new to your senses.
Julie from RDelicious Kitchen showed some creativity here, good job!
31. Grilled Watermelon Salad
Via: www.recipegirl.com
Here's another variation of grilled watermelon, by Lori Lange from RecipeGirl. This one is quite easy and straightforward, and it takes almost no time to prepare. Combined with cheese, grilled watermelon brings unique freshness to a summer day.
The excess liquid can be used for some cocktails or as juice, which will be further refreshment.
32. Saffron Chicken, Lemon, and Green Bean Salad
Via: www.washingtonpost.com
As the main course, summer salads are excellent for many reasons. Besides they're refreshing, they are healthy, natural for the stomach, can keep you full for a long time, and taste delightful.
This salad hits all of these attributes – and even more. Saffron and chicken go together surprisingly well, and beans, garlic, and lemon add the texture, sour/earthy taste, and aroma.
This salad is a great idea for lunch outside.
33. Vietnamese Noodle Salad with Fragrant Herbs and Roasted Peanuts
Via: www.finecooking.com
It's not a typo, guys – this is a real thing!
When you use spiralizer on zucchini and carrots, add some onions, cilantro leaves, mint, peanuts, and a bit of sauce, you get a noodle-like salad that looks and tastes fantastic. This is a real example of creativity, and a colorful, fresh and very healthy salad that will be particularly appealing to kids.
34. Buffalo Chicken Salad
Via: www.closetcooking.com
If you're having meat-loving guests over, here's how you serve a salad to them – paired with hot-sauce-fresh-BBQ chicken! To follow the strong taste of the chicken, use some lettuce, carrots, celery, and onion.
Finally, as a surprise ingredient, blue cheese dressing comes into play. Fabulous combination! Also, if your carnivore friends love spicy food, add some hot sauce on top, or provide it as a separated sauce for free dressing.
35. Strawberry and Balsamic Grilled Chicken Salad
Via: www.closetcooking.com
Here's something you don't see every day; a salad combination of chicken and strawberries!
Grilled chicken is always welcome, and balsamic vinaigrette comes as a refreshing summer combination. Paired with strawberries and spinach, light cheese, and bacon, this mix brings something extraordinary to your table.
Arugula and pecans will provide that extra push of freshness and crunch, completing this incredible recipe.
36. Rice and Black Bean Salad
Via: www.goodcheapeats.com
Jessica from GoodCheapEats helps many people to save money and utilize it possibly.
This recipe from her features a salad can be served as a proper meal, and it allows your creative additions as well.
Tomato, cilantro, and scallions provide the fresh and mild, yet sour aroma that pairs well with the texture of the meal.
37. Black Bean and Mango Salad
Via: www.popsugar.com
This one comes from PopSugar, and it's ultra-easy to prepare, looks very colorful, and tastes great!
Mango, black beans, and cilantro are the essential ingredients that form the foundation of the salad. The dressing adds a significant amount of juice and flavor, thanks to maple syrup and different types of fruit juice used.
38. Three Bean Salad with Jalapeno-Cilantro Vinaigrette
Via: www.cookingchanneltv.com
This three-bean, jalapeno-cilantro combo is something that will leave your taste buds tingling from the spicy, earthy and crunchy sensation. Green, yellow, and cannellini beans combined provide a colorful mixture, and when combined with other ingredients, they give out a fantastic aroma and texture.
Be careful with jalapeno, though!
39. Simple Orange Ginger Carrot Salad for a Higgidy Picnic
Via: www.tinandthyme.com
This salad from Choclette, TinAndThyme vegetarian blog combines all things orange and does it with a style; ginger, carrots, orange juice, root ginger, spring onions, with green details supplied by chives plant.
To make this beautiful salad, grate everything and mix it in a bowl. It will bring your picnic to an entirely new level.
40. A very Red Cabbage Salad
Via: www.mycustardpie.com
Red is my favorite color. That's why I had to add this salad to the list. And yeah, it's fantastic. It does have some purple influence from the cabbage, but let's not be that picky – try it, and it will blow you away.
It comes from hot and sunny Dubai, the food and travel blogger Sally Posser.
41. Heirloom Tomato & Chive Flower Salad
Via: www.lavenderandlovage.com
Fresh, organic, outdoor grown tomatoes are one of the top reasons I love summer. These small bundles of taste and juice merely make everything so much better. No matter the recipe, adding some tomatoes and olive oil into the mix will always get you somewhere right.
This recipe combines fresh and fantastic heirloom tomatoes with beautiful purple chive flower. If you can get your hands on these, get them immediately and try it – thank me later!
42. Apple Cranberry Walnut Salad
Via: www.lecremedelacrumb.com
Even though I mentioned dozens of salads, I can surely say that this one is in my top 3 salads of all time. The dried cranberries combined with chopped apple, walnuts, cheese, and green lettuce of your choice. The dressing reminds me of honey in looks, and it's gorgeous.
Maybe it's the apple, or the dressing, or the combined taste from the feta and walnuts. Don't know, but I'm in love with this salad!
43. Israeli Salad
Via: www.feastingathome.com
I've found this idea recently and got blown away. Sylvia from Feasting At Home nailed it. The finely chopped tomatoes, cucumbers, onions, peppers, and herbs look merely astonishing.
When you make this salad, it will steal the show, no matter the occasion. Everybody will want to know about the recipe!
44. Master Cleanse Salad
Via: www.detoxdiy.com
Ana-Marie from Detox DIY knows a thing or two about health and nutrition. She preaches green veggies as the foundation of a healthy body, and we all know it's the truth. We need to eat them more.
This fantastic salad is built around the mighty broccoli. It's paired with zucchini, avocado, watercress, onion, and more. The green cleansing salad was on my home menu the other day, and it was fantastic!
45. Wild Rice and Mushroom Salad
Via: www.mywholefoodlife.com
Mushrooms are vegetables that can be very rewarding to both taste and nutrition if handled correctly. This rather simple, yet delicious salad easily incorporates them – sliced thin and cooked, and then combined with rice.
Beans and almonds add to the texture, and oil and garlic provide the extra push of the taste. Be careful not to overcook the mushrooms, because the aroma will blend with the rest amazingly if you hit that right spot.
Prepare for the season of delight and sensation
The summer is coming, and it's going to be amazing.
Someone likes it for the weather, someone for the events and way of life. For vacations, adventures or new experiences.
I, on the other hand, love it for the fantastic food that blossoms during these warm days.
I enjoy lazy afternoons in the yard, with some excellent company, and some refreshing salads.
With so many possibilities and variations, the kitchen is your playground. And now you have 45 ideas for this summer.
Go out there and make a fabulous salad!