Do you want to know if you can make your boxed cake mix extra moist and flavorful? Then you need to consider adding pudding to cake mix. Dry pudding mixes have a bit more than flavorings and sugar, yet they create an improvement in the texture and taste of your cake mixes.
I learned about the secret of pudding when many baking contestants use it to win several cooking contests. I made a little internet exploration and found this recipe. Thought I'd share it with you and everyone else who have no idea how to do it.
What You'll Need
Instant Pudding Mix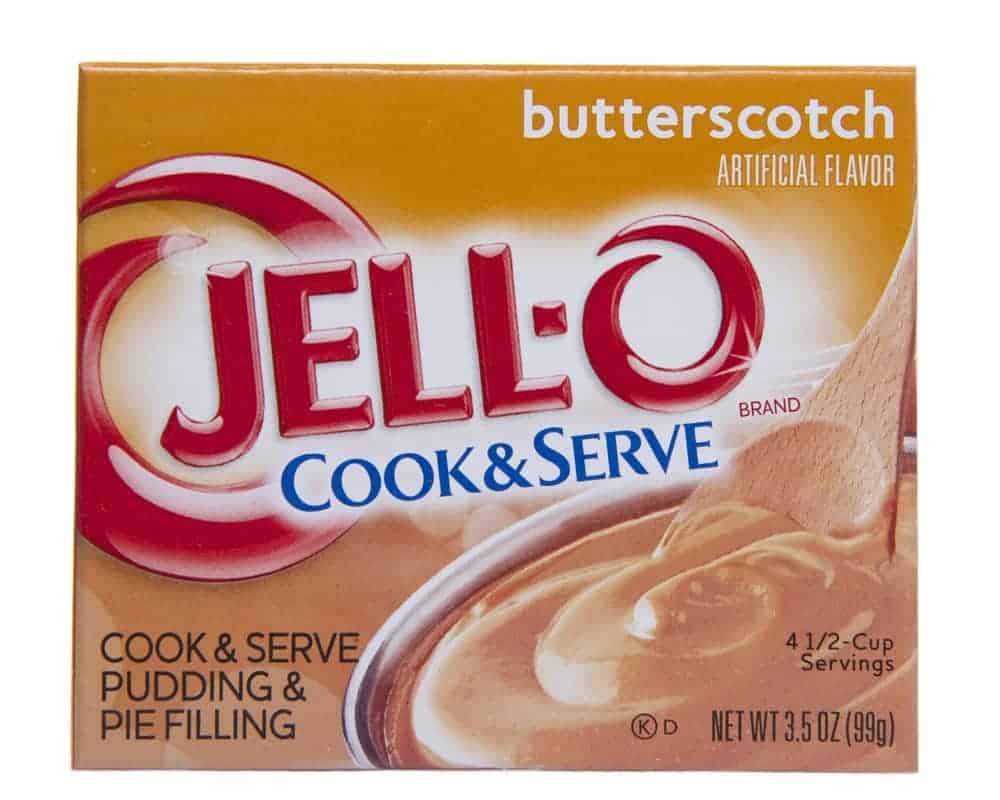 Adding pudding to cake mix doesn't change the flavor enormously, but it does help in making the cake moist and more homemade tasting. Also, the instant pudding can help cakes remain fresh longer. Due to these elements, a pudding mix is perfect for quick bread, sheet cakes, and bundt cakes.
Now, selecting the right instant pudding mix may depend on the cake mix you'll be using. The basic rule is to choose identical flavors- chocolate pudding for chocolate cake mixes or lemon pudding for lemon or orange cake mixes. For a more complex cake flavor, choose complementing flavors.
Vanilla pudding works well with almost any flavor of cake mixes from white to strawberry. Lemon pudding can bring a stimulating citrus flavor to yellow and white cake mixes. Mint pudding adds a refreshing twist to chocolate cake mixes. For every box of cake mix, you'll need one box of instant pudding mix.
Cake Mix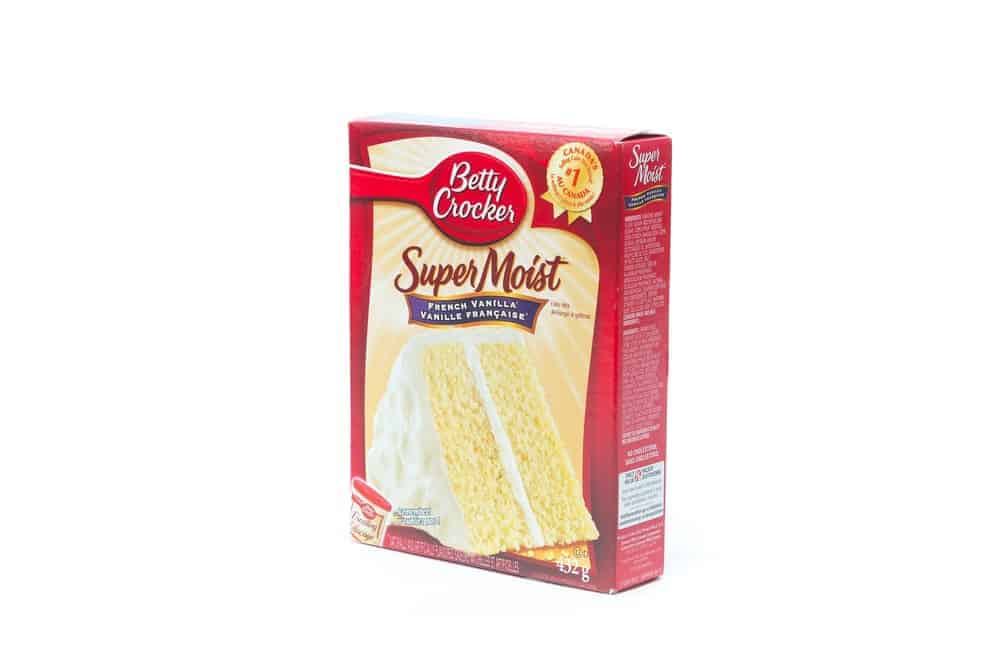 While I usually prefer the rich taste of a homemade cake, a boxed cake mix is a better option if you want to hasten the proceedings. Some of the best brands that you can use are Pillsbury, Betty Crockers, and Duncan Hines.
Some cake mixes, specifically those that are marked as 'extra moist" might already contain pudding into the mix. To be sure, look at the package carefully and watch for pudding ingredients. If you found pudding into the ingredients, don't use it for this recipe because adding another box of pudding will make the cake heavier.
Eggs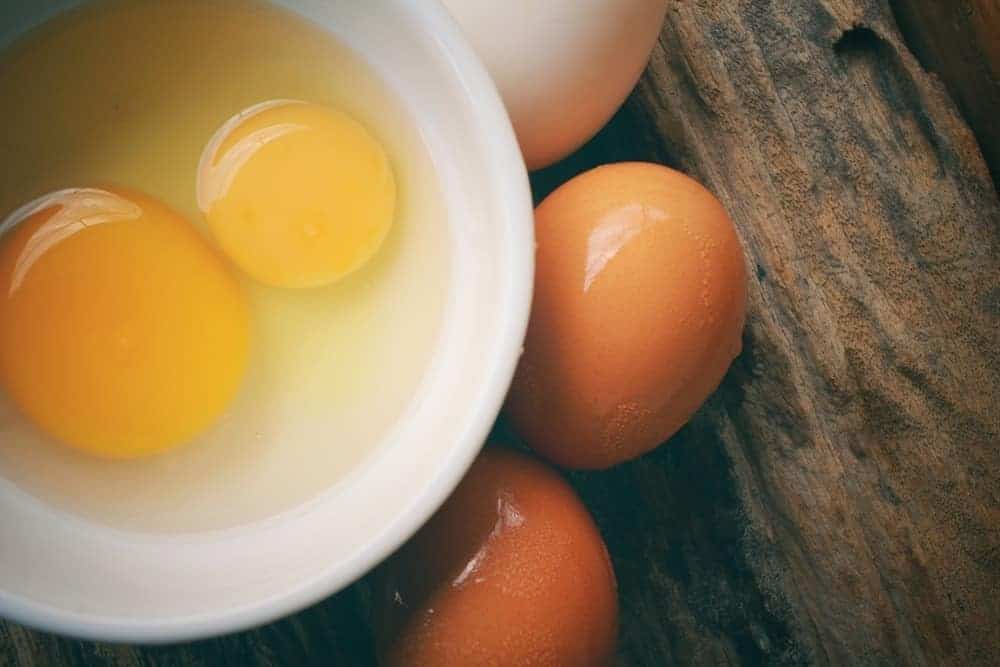 Most cake mixes require three eggs for baking, but you can add one more egg for a richer flavor. In total, you need four eggs to make this recipe. The eggs will give structure and moisture to the cake.
When buying in supermarkets, look for large chicken eggs. The shells should be unblemished and uncracked. Take your time to open the carton and check the eggs for damage. Salmonella tends to thrive on the eggshell's exterior and can migrate to the inside through cracks.
Water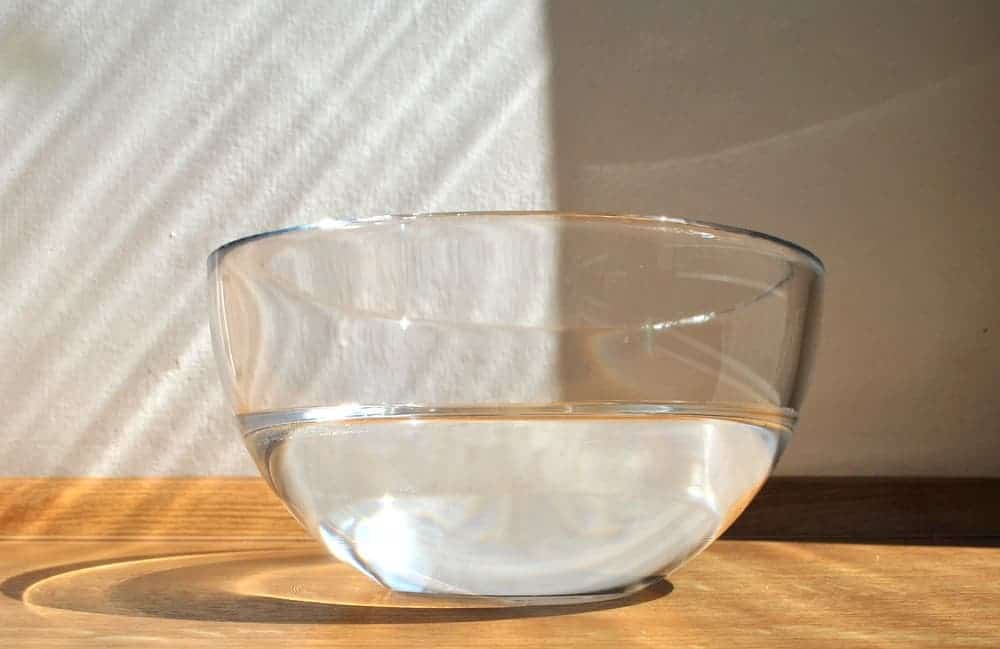 You'll need one cup of water to make the cake mix batter. As possible, use filtered or distilled water to get away from water contaminants. If you like your cake to taste homemade, you can substitute water with dairy. Last time, I used buttermilk to bring a creamy and rich flavor to the boxed cake mix.
Vegetable Oil Or Butter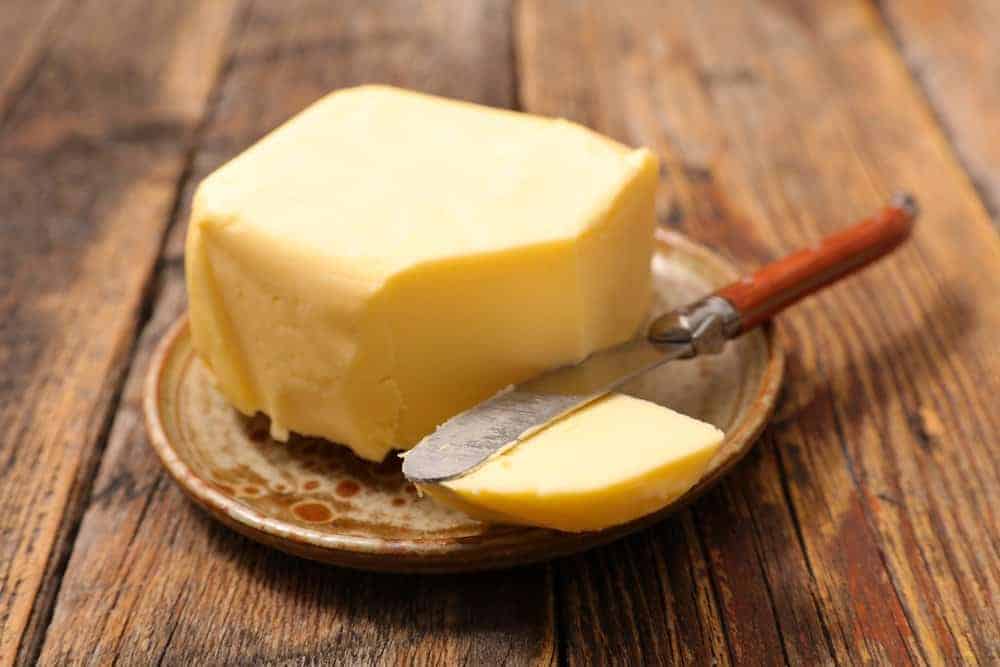 Depending on what is required by the boxed cake mix, you can use 1/3 cup vegetable oil or softened butter. If your cake mix requires vegetable oil, you can also substitute it with the same amount of melted butter. To soften the butter, you can microwave it in short bursts on medium or medium low for 10-15 seconds.
Nonstick Cooking Spray With Flour (For Greasing The Pan)
When baking, the pan is always greased before you pour the batter to prevent the cake from sticking when cooked. What I use is the Pam Nonstick Cooking Spray With Flour because it saves me the hassle of dusting the pan with flour after greasing. Alternatively, you can use vegetable shortening or butter, but you may need to follow it through with some flour to help the cake batter to rise evenly.
How to Add Pudding To Cake Mix?
Cake mixes have been a part of American homes since the 1920s. After all, you don't need to be a baker to use cake mix. However, the initial cake mixes were quite dry. They didn't fully taste like homemade cakes. So the manufacturers began to work on the ingredients to make cake mixes for much more moist and tasty cakes.
Arlen Andre, a food scientist, and Duncan Hines partnered to experiment with cake mixes. They realized that adding an egg to the cake mix batter solved the dryness issue. The cake mix developed in 1951 came with real eggs and resulted in a moist cake. Over the years, people started adding pudding mix to the cake mix to make the cake even more dense and moist.
Food Timeline says that pudding mixes were first introduced in 1918, and instant pudding entered the American market in the 1950s. As people experimented with instant pudding and cake mixes, the recipes were created using cake mix and pudding mix.
Note that you'll have to add pudding mix to the cake mix and not the pudding itself. Pudding can be used as a filling when layering a baked cake (for decoration). It can also be used as a stuffing inside cupcakes for extra flavor.
The pudding mix has flavors and fat that makes the cake more tasty and moist. Since we are adding cake mix and pudding mix in a ratio of 1:1, we need to increase the quantity of wet ingredients (oil, water, eggs, etc.) to get a cake batter of the right consistency. However, adding a box of pudding mix to the cake mix will not double the recipe. You won't get a larger cake, though the size might increase a little.
Generally speaking, a regular box of cake mix (15.25 oz) requires a 9*13 (inches) cake pan. You might need the next size cake pan if you add pudding mix to it. That said, you can use the same sheet pan if you plan to bake a sheet cake.
So, where does the pudding mix go if the cake doesn't double?
It doesn't go anywhere. Adding pudding mix to the cake mix will make the cake taller. You'll notice an increase in the cake's height instead of its circumference. It is helpful when you want to create a layered cake. You can cut an extra layer from the same cake without making the layers too thin or breaking them.
One cake mix and pudding mix will give you a quarter-sheet cake (13*9*2 inches)

Two cake mixes and pudding mixes will result in a half-sheet cake (12*18*2 inches)

Four cake mixes and pudding mixes will produce a full sheet cake (18*24*2 inches)
If you intend to bake cupcakes, you'll get a few extra cuppies when you add pudding mix to the cake mix. Calculate how much cake and pudding mix you need depending on how much cake you want to bake.
Pudding as Decoration
Pudding also works as cake decoration. The Oklahoma State University Extension has listed a recipe for Elegant Party Cake where the vanilla pudding is used to make frosting for a cake. The recipe calls for vanilla pudding mix, cream cheese, and milk. It is combined with non-dairy whipping cream to create a delicious topping for a yellow cake (using cake mix).
Another way to use instant pudding with cake is through the poke cake method. Here, you bake a cake using the cake mix. Make pudding using the instant pudding mix when the cake is in the oven. Soon after the cake is ready, let it rest for five minutes. Poke holes into the cake. Loosen the cake from the sides and pour the pudding mix over the poked cake.
Go slowly and allow the cake to absorb the pudding mix. Let this sit for six to eight hours before serving. The hot cake will absorb the pudding and become moist. It will have an enhanced flavor too. Keep a tab on the cake when pouring the pudding. Excess pudding will make the cake sloppy and messy.
You can use a ready-made cake (like a pound cake). In fact, you can create ice cake by slicing the pound cake into layers and pouring pudding on the layers (after poking holes). Place a cling film over the pan and put it in the freezer for a couple of hours.
Don't be afraid to experiment with flavors. You can jazz up a simple vanilla cake with citrusy pudding to make it tastier. Top it with strawberry, lemon, or orange pudding for the extra zing. Caramel pudding goes well with chocolate and butterscotch cakes. Orange and chocolate are also a great combo. Coconut cream, pistachio, and white chocolate can bring extra flavor to regular cakes.
Expert Tip: Don't use pudding mix in the cake and topping as it will result in a soggy and highly dense cake. The total ratio of cake mix to pudding mix is 1:1, whether you use it with the batter or as a topping. Don't exceed this ratio.
Equipment And Utensils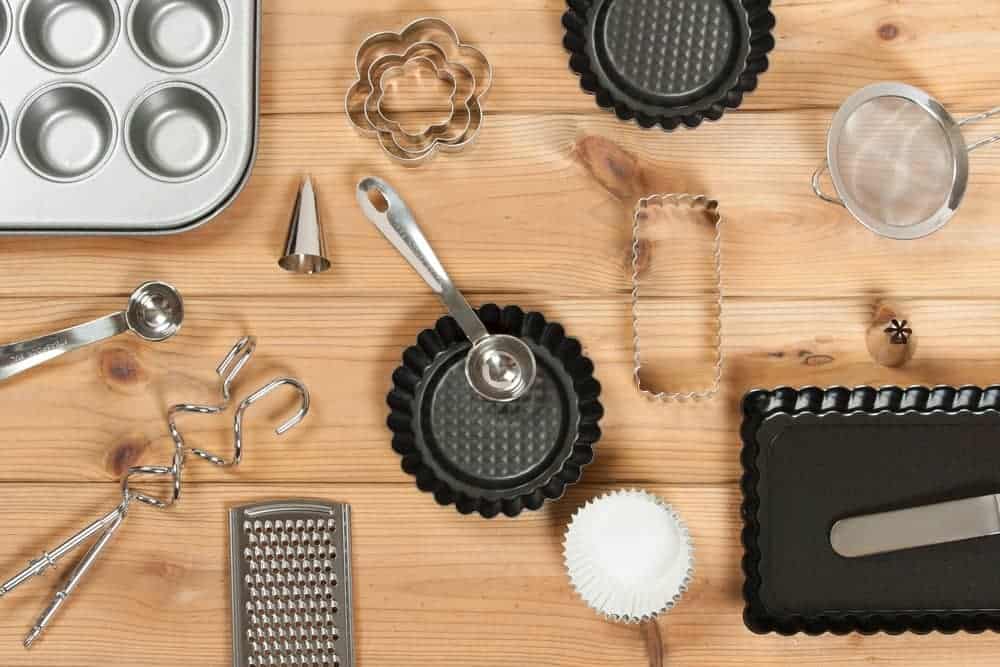 Hand Mixer
To beat all your ingredients together, you need a good hand mixer. If you're thinking of buying a new hand mixer, look for these following features: a comfortable grip, durable parts, variable speed control, and higher wattage. The higher the watts, the less work you do because the mixer will do the beating for you. If you have no hand mixer available, you can use a whisk or spoon alternatively.
Cake Pan
To cook your cake in the oven, you need a cake pan. You have the choice to use any size of cake pans: round, square, rectangle, or tube. If you're using your old cake pan, make sure that it's not worn out and warped or else you'll end up with irregularly browned cake.
Toothpick
You might wonder, what's a toothpick doing here? Well, you need it to test the doneness of your cake. If it comes out clean after you have inserted it into the middle of the cake, then it's done.
Mixing Bowl
A large mixing bowl will serve as the container where you mix all your ingredients together. You need a sturdy bowl so it won't topple over when you'll be beating the ingredients with the hand mixer.
Spoon
You'll be needing a spoon to scoop out the batter into the cake pan. A spoon also comes in handy when you'll be mixing the cake mix with the instant pudding mix in a bowl. You can use any spoon you have in your kitchen.
How to Make a Cake With Pudding (Dos and Don'ts)
Cakes made with cake and pudding mixes need extra baking time. Set the timer for 10 to 15 minutes more than the given period. However, keep an eye on the oven (every oven has a different heating capacity).
Ingredients
Sift the dry ingredients even when using cake and pudding mixes. This makes the flour/ mix airy and light. It also gets rid of the lumps and makes mixing easier.
Some people prefer to use margarine instead of butter. Margarine is a combination of vegetable oil (80%) and other fats (20%). Traditionally, margarine was made using animal fat, but the ones we find today contain vegetable oil. Despite popular opinion, margarine is not healthier than butter. Research shows that using margarine will not really reduce the risk of a heart attack. You might as well use butter or vegetable oil directly.
Milk and non-dairy milk (soy/ coconut milk) can also be used instead of water. You can add instant black coffee instead of water to the chocolate cake mix for an additional taste. Furthermore, you can add a dash of liquor if the cake is only for adults.
A shot of tequila, a quarter of a glass of white wine, etc., can enhance the cake's flavor. Remember to reduce the amount of water by that proportion. For example, if you add 3 tbsp of tequila to the batter, reduce the quantity of water by the same amount.
Don't add sour cream to the cake mix batter if you add pudding mix. Instead, go for vanilla extract (preferably real vanilla from pods), almond extract, etc. But you can grate orange/ lemon/ lime zest into the batter if you like a hit of citrusy taste in your cakes.
Don't use cold ingredients to make a cake. The chill in the cold ingredients will cause the batter to separate and result in a hard cake. It is recommended that you allow the ingredients to come to room temperature before preparing the batter.
Mixing the Batter
You need to mix both the dry and wet ingredients separately and combine them to prepare the cake batter. You can add dry ingredients to wet ingredients or vice versa. Follow the instructions on the cake mix box. If add wet ingredients to the dry mix, go in stages to avoid making the batter too watery. This will result in extra cooking time and still give you a soggy cake. The cake may even sink in the middle.
Be careful not to overmix the batter. This will result in a chewy and hard cake. If there are any lumps left in the batter, use a spoon or spatula to gently break the lumps and fold them into the batter. Always mix the batter in a single direction. Go in the clockwise direction for convenience. Stop the instant you see the batter is smooth and ready.
Overmixing results in more gluten that affects the cake's texture and taste. Use the cut and fold method to mix the batter if you are hand-mixing it. Go for a flat spatula instead of a spoon. If using an electric mixer, set in on the lowest speed. Always.
Toppings
Fresh seasonal fruits can be added to the batter for a fruity cake. For example, you can fold a handful of fresh blueberries into the batter before pouring it into the cake pan. The blueberries will heat up in the oven and release the fruity flavor into the cake. Biting into a blueberry when eating cake will cause of burst of flavor in your mouth. You can use other berries like raspberry, blackberry, chopped/ sliced strawberries, etc.
The pudding mix in the batter will prevent the fruits, nuts, and choco chips from sinking to the bottom of the cake. You don't have to dust the nuts and fruits and can directly add them to the batter before baking it.
Storing
Store the cake and pudding mix boxes in a moisture-free place away from direct sunlight. The mix can last long if it is stored in good conditions at room temperature.
Cakes with pudding mix (in the batter) tend to have a longer shelf life than regular cakes. Still, you need to store them properly to prevent molding or dryness. Wrap the cake in a cling film and store it at room temperature. This cake stays good for two days. Refrigerate the leftovers (though it will affect the texture and taste). Cakes with frosting have to be refrigerated from the first day.
Step-By-Step Instructions
1. Prepare The Ingredients And Equipment
You'll need one box of cake mix for this recipe, plus one box of instant pudding, four eggs, one cup water, and 1/3 cup vegetable oil or softened butter. Preheat the oven to 350 degrees Fahrenheit for metal pans or 325 degrees Fahrenheit for dark-colored pans. Grease your cake pan thoroughly with a nonstick cooking spray with flour to prepare it for the batter.
2. Mix The Ingredients
In a large mixing bowl, pour the boxes of cake and pudding mixes. Mix the dry ingredients with a spoon. After roughly mixed, add the eggs, water, and vegetable oil. Take note that some cake mixes require softened butter instead of vegetable oil, so make sure that you read the directions on the package thoroughly.
Using your hand mixer at medium speed, whisk, or spoon, beat all the ingredients for about two minutes or until thoroughly mixed and smooth. To make sure that all ingredients are combined well, scrape the sides of the bowl with a spoon. You'll probably notice that the batter is thicker than an ordinary cake batter.
3. Bake In The Oven
When the batter has become smooth, pour it into the greased cake pan. Bake in the middle rack of the oven at 350 degrees Fahrenheit for about 50 minutes. If you're using a dark-coated cake pan, wait 3-5 minutes more to bake.
To test whether your cake is done or not, insert a toothpick in the middle part of the cake. If the toothpick comes out clean, then you will know your cake is cooked. If not, then bake three minutes more until the toothpick no longer includes any traces of wet batter.
4. Cool And Serve
When your cake is done, take it out from the oven. Cool the cake for 10 minutes before you remove it from the pan. If you plan to add some frosting, cool the cake completely.
Tips For Success
1. Use Hot Water Or Milk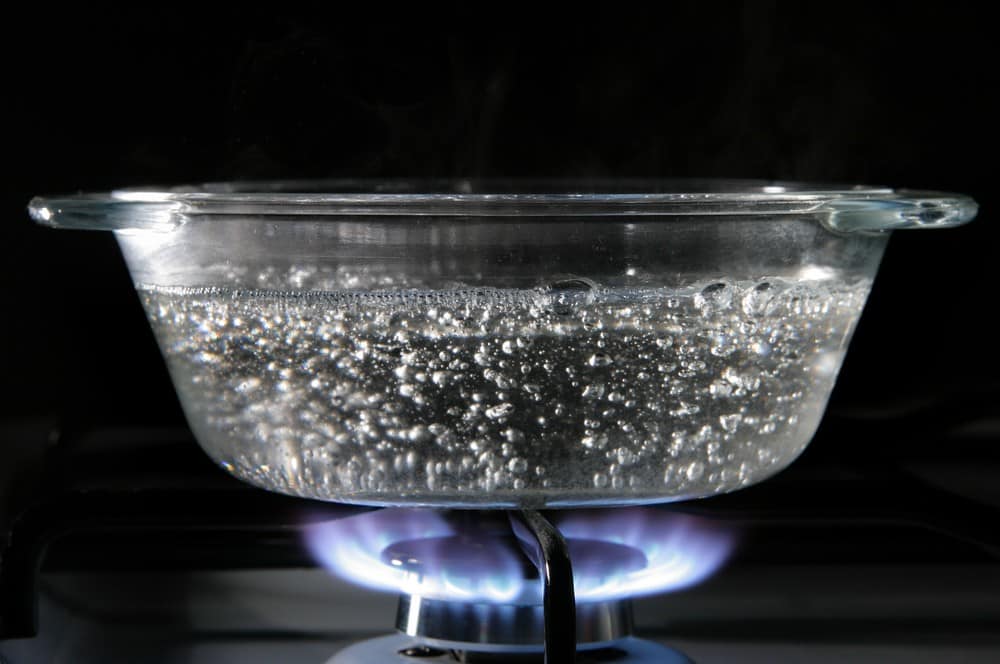 If you want to make your chocolate cake taste chocolatier, celebrity cook Rachel Ray suggests using hot water. Add the amount according to what is prescribed for water in the recipe. The heat of the water allows the cocoa in the mix to develop its flavor even further.
You can also consider substituting water with milk to give an extra creamy flavor to your mix. To freshen up the flavor of your cake mix, you can try adding 1/2 teaspoon of vanilla extract.
2. Add Spices And Mix-Ins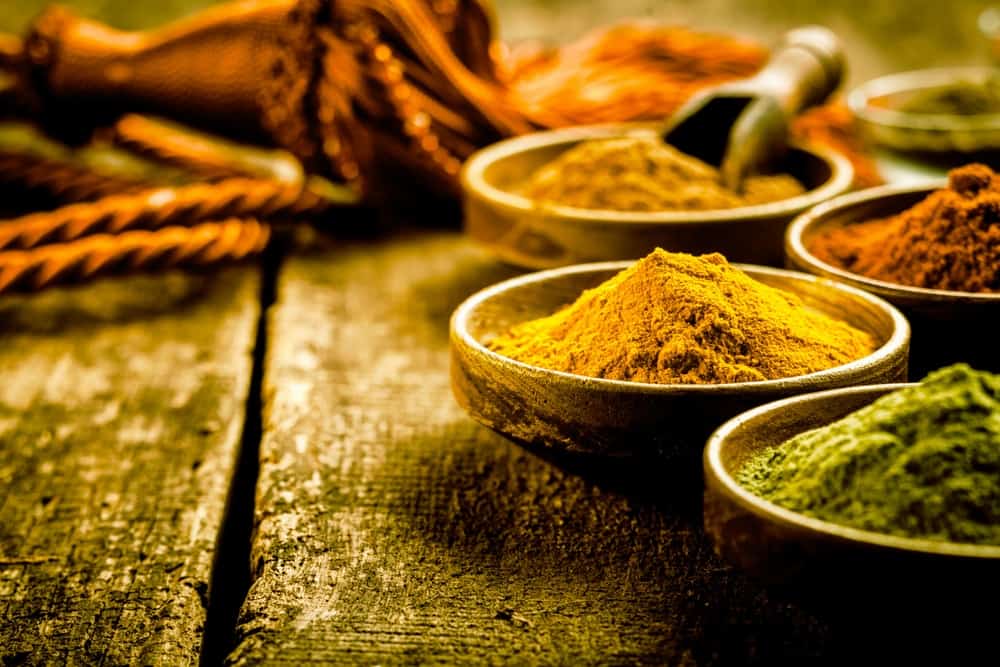 To add a fiery kick on your cake mix, Premeditated Leftovers suggests adding a single spice into the mix. You can try cinnamon, pumpkin pie spice, or nutmeg. For one box of cake mix, you may add one teaspoon of any single spice of your choice.
You may also jazz up your cake and add some mix-ins. Although the cake box doesn't specify the addition of mix-ins, you can improve the taste and texture of your cake by adding some of them. For a chocolate cake, try adding some chocolate chips. Other excellent mix-ins that you can consider include chopped nuts, fruits, or crushed peppermints.
Final Thought
Did you enjoy following the instructions on adding pudding to cake mix? I never thought that you can make a simple box of cake mix taste homemade with a few tweaks. Remember to use identical or complementary flavors of your cake and pudding mixes.
If you have tried adding some instant pudding into a cake mix, I'm excited to know what you think in the comments section. You can also share this article with your friends and family if you like to spread this newfound culinary knowledge.